Allentown
Beautifully-preserved historic city with a thriving modern cultural life.

ALLENTOWN REAL ESTATE
Situated 50 miles northwest of Philadelphia and 90 miles west of New York City, historic Allentown is a charming city with an abundance of green space and cultural attractions. In recent years, Allentown real estate has become increasingly popular.
This 250-year-old city is the home of the Liberty Bell and was the site of some of the most important moments in America's history. Allentown is also a thriving modern community. In 2016, it was one of just six cities across the United States to be recognized as a National Success Story by the Urban Land Institute for its efforts in urban renewal and redevelopment.
Allentown's booming downtown is home to a variety of new commercial construction, including high-end restaurants, upscale hotels, parking garages, and varied shopping.
With a unique blend of history and modernity, Pennsylvania's third-largest city is a wonderfully inviting community with much to offer to its residents.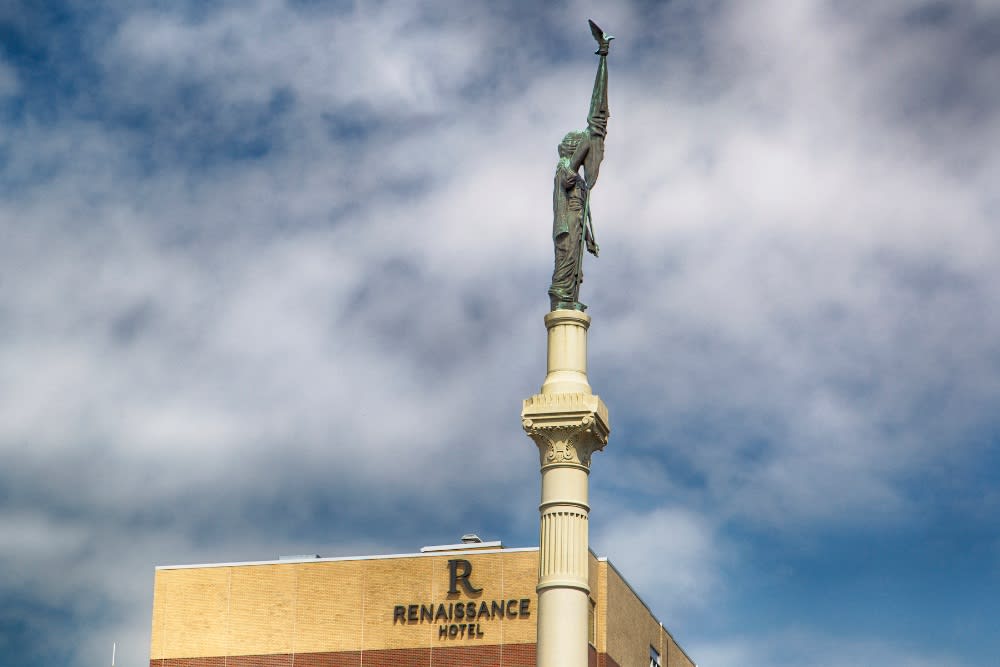 ALLENTOWN REAL ESTATE INSIGHTS
Allentown real estate has undergone many phases of development since its establishment in the 18th Century. Today the city is known for its extensive stock of grand historic homes that exhibit an array of beautifully-preserved architectural styles.
Center City houses the historic districts of Old Allentown and Old Fairgrounds. These districts are known for their distinctive early-20th Century Victorian and Federal style row homes, some of which have been converted into spacious apartments.
The largest historic properties are located on the quiet tree-lined streets of West Park. These expansive properties, including gorgeous examples of the city's famous Victorian and Craftsman-style homes, can extend up to 20,000 square feet and beyond in size, and provide an unique sense of Old World refinement.
Allentown's East and South Sides feature a variety of spacious single and twin-family homes. While the majority were constructed in the mid-20th Century, these districts are also home to older Victorian properties.
In addition, the prestigious Whitehall neighborhood is one of Allentown's most sought-after residential areas.
Allentown's real estate also includes a range of modern loft apartments. Some of these are located in pristine new buildings which blend in well with the city's historic character, while others are situated in converted historic mills and brick manufacturing buildings.
PEOPLE & LIFESTYLE
Conveniently located between the major metropolises of New York City and Philadelphia, Allentown offers an excellent selection of cosmopolitan amenities. The city contains a variety of malls and shopping districts, and the city's diverse culinary scene features charming rustic restaurants and chic modern eateries.
The Lehigh Valley Mall is located just north of Allentown, in the Whitehall area of the city. Extensively renovated over the past ten years, the mall contains ten distinct shopping centers with ample restaurant options as well as furniture, grocery, and home improvement stores.
At 24 stories high and 322 feet tall, the PPL building is Allentown's tallest. The adjacent PPL Center is a new addition to the city and home of the Philadelphia Flyers-affiliated Lehigh Valley Phantoms, an American Hockey League team. The PPL Center brings many world-class shows and performances to the city. Samuel L. Jackson was recently spotted enjoying a performance from Cirque de Soleil.
Allentown's impressive cultural heritage is celebrated through a range of museums, including the world-famous Liberty Bell Museum. Other popular attractions include the America on Wheels Museum, the Allentown Art Museum, and the Da Vinci Science Center.
There are several parks in and around the city, and the largest is the 6.59-acre park at the center of Allentown's upscale West Park neighborhood. Allentown Rose Gardens, Trexler Memorial Park, and Cedar Beach Park are three of the most attractive green spaces, and Dorney Water Park & Wildwater Kingdom is a summertime must-visit.
ABE International Airport is also located in Allentown, and a Philadelphia Phillies-affiliated minor league baseball team plays its games in a stadium nearby. The stadium has fantastic views and is easily accessible from downtown within minutes.
Are you looking for Allentown luxury homes for sale? Contact us now or browse our listings
here
.