Forks Township
Idyllic suburban community in a beautiful natural setting.

FORKS TOWNSHIP REAL ESTATE
Located just north of Easton, Forks Township is a welcoming community with a quiet suburban feel. Forks Township's 15,034 residents enjoy an area rich in heritage and beautiful natural scenery. With friendly neighbors and much to do in the surrounding area, the homes for sale in Forks Township are the perfect setting for raising a family.
Forks Township's name comes from its position on the fork of the Lehigh and Delaware Rivers. The area is full of trails, green space, and public parks. 52-acre Community Park is the largest, containing an amphitheater and a range of sports facilities, including courts of basketball, tennis, and volleyball and fields for baseball, football, soccer, and lacrosse.
To Forks Township's east you'll find New Jersey just across the Delaware River. There are many shopping, dining, and entertainment options in the surrounding Lehigh Valley communities, and the immense urban amenities of Philadelphia and New York City are easily accessible by car.
FORKS TOWNSHIP REAL ESTATE INSIGHTS
Real estate Forks Township PA contains a number of luxurious modern property developments. Nestled in quiet countryside, these spacious homes provide an idyllic setting and many residents commute into New York City. This quiet community provides the perfect counterpoint to the hectic Big Apple.
These modern single-family homes offer a lot of space both inside and out. With well-maintained lawns and stunning contemporary design, Forks Township's properties are the perfect place to rest and unwind.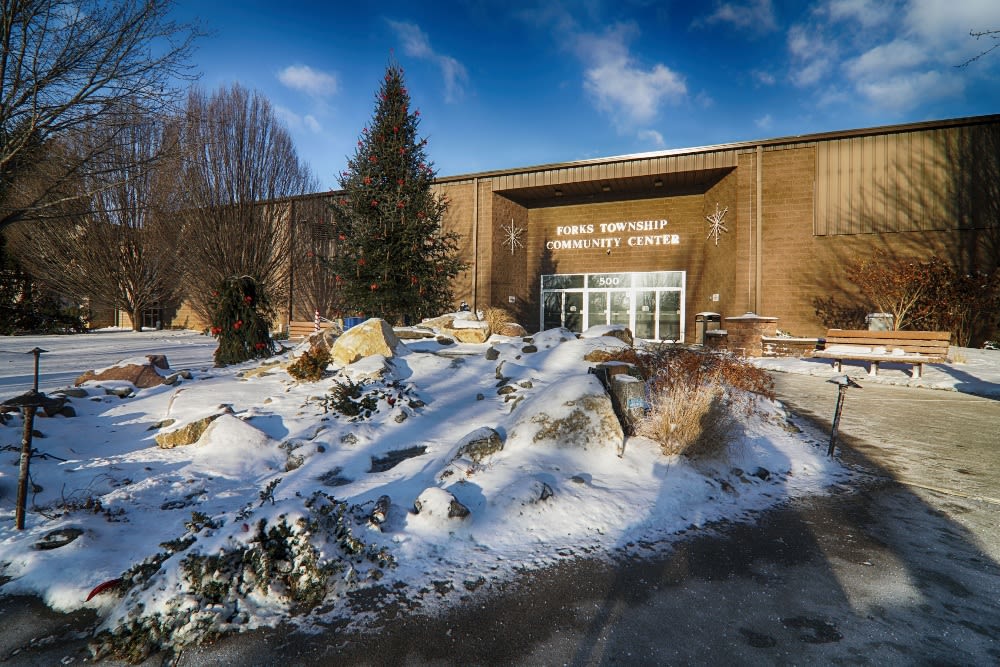 PEOPLE & LIFESTYLE
Forks Township's close-knit sense of community is showcased each September with the annual Community Days event. This popular event brings a wide range of family-friendly attractions to the community, with everything from hot air balloons to live music performances.
The community is also home to some fantastic restaurants, including De Lorenzo, which serves delicious and authentic Italian food. Other neighborhood favorites include Forks Mediterranean Deli, Leaf Cigar Bar, and Jasmine Japanese and Thai.
Forks Township's reputation as a dining destination has increased with the recent addition of Alfie's Kitchen, Red White & Que Smokehouse, and Sam's Bagels & Deli to the Park Plaza Shopping Center on Sullivan Trail. The Shopping Center is itself a great addition to the community, with a fantastic selection of shops in a wonderfully modern setting.
Riverview Country Club is located close by and its facilities include a gorgeous Jim Blaukovitch-designed golf course with stunning views of the surrounding rolling wooded hillsides.


There are so many reasons why you can call Forks Township your new home. To know more about Forks Township homes for sale, call us now or check our listings
here.